CA Tobacco Control Program
Expose the tobacco industry's use of flavored tobacco products
to attract young consumers
Background
After years of public health education about the dangers of cigarettes, tobacco companies are retaliating by pushing forward new products that don't look, feel, smell, or taste like traditional cigarettes, but have the same (or worse) negative health effects.

Rather than being a replacement to cigarettes, new tobacco products (e.g. vaporizer and flavored e-cigarettes) encourage dual use amongst current smokers and, through the use of flavor particularly, are designed to attract new users. With dramatic results, they are addicting an entirely new and vulnerable generation, including low-income minorities, Asian teenagers, and young adults.
Challenge
Studies show that Asian parents have lower awareness and knowledge of all the new e-cigs available in the market.

While there are currently more than 15,500 tobacco flavors in the market, our challenge was that people weren't 'seeing' the threat. Along with flavored tobacco smelling and tasting nothing like traditional tobacco, it's designed to look nothing like it as well (e.g. pens and flash drives)

It is critical that the campaign not only educates Asian parents about the dangers of flavored e-cigs, but also elicits a sense of urgency for them to protect their children.
Solution
Together with the general market agency, Duncan Channon, we developed the Asian 'Flavors Campaign' to get people to see the flavored tobacco products as a threat. Our objective was to ensure that Californian Asian parents and change makers, were made aware of the tobacco industry's tactics to hook kids wit flavored products. In addition, we expose the industry's deliberate actions to create products that are hard to spot for parents and caregivers.

Our campaign warned Asian parents and change makers aware of the flavor scam: 1) get them fired up; 2) educate them; 3) drive them to FlavorsHookKids.Org; 4) enlist/notify others.
Scope of Campaign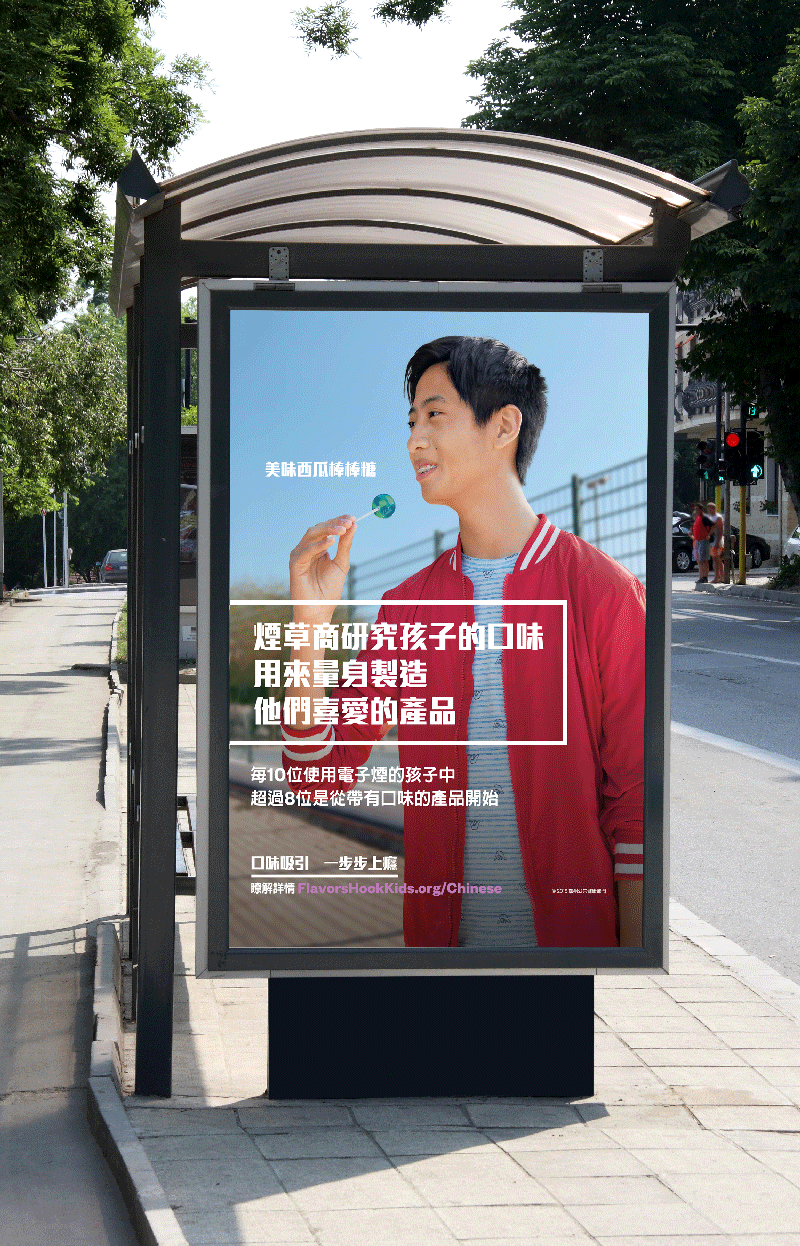 OOH (Lenticular Poster)
HL: The tobacco industry studies kids to create products just for them.
SH1: Yummy Watermelon Lollipop
SH2: Watermelon Flavored Toxic Nicotine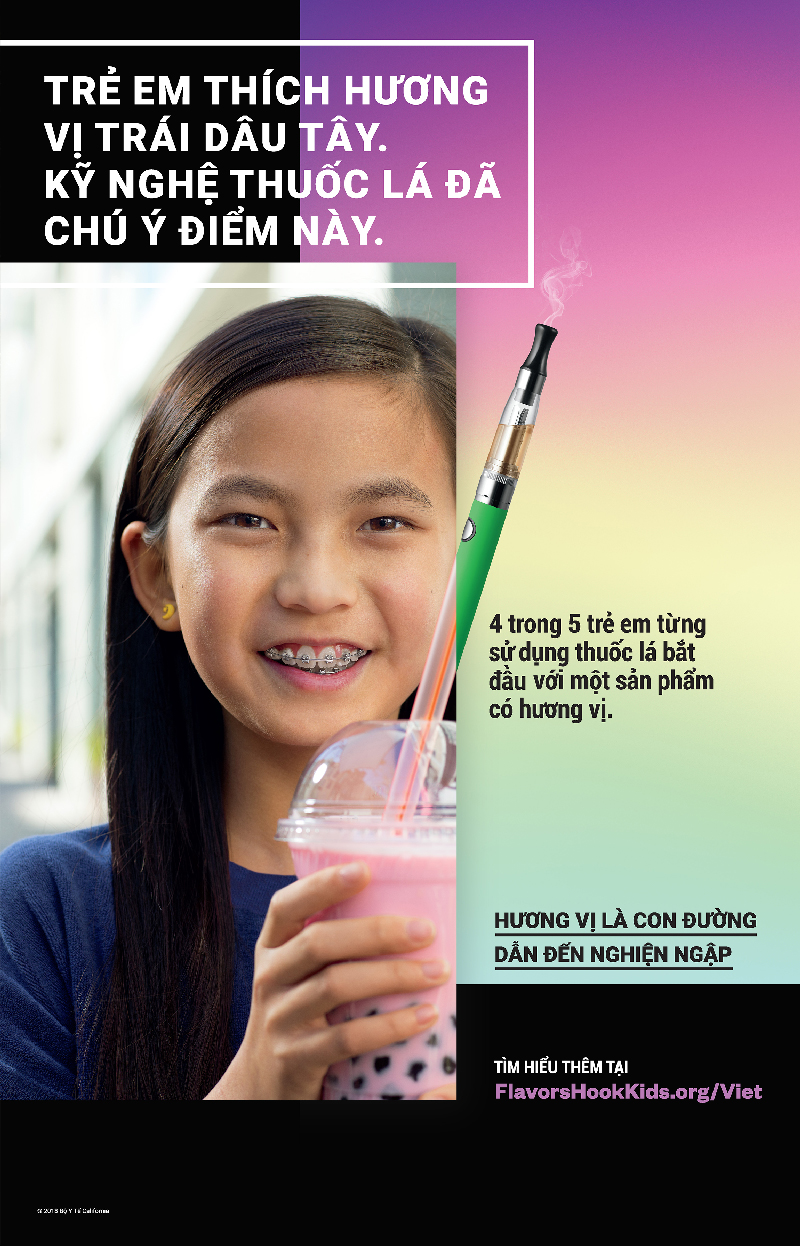 OOH/ Print
HL: Kids love the flavor of strawberry.
The tobacco industry paid attention.
Copy: 4 out of 5 kids who have used tobacco started with a flavored product.
TV: Blow Their Cover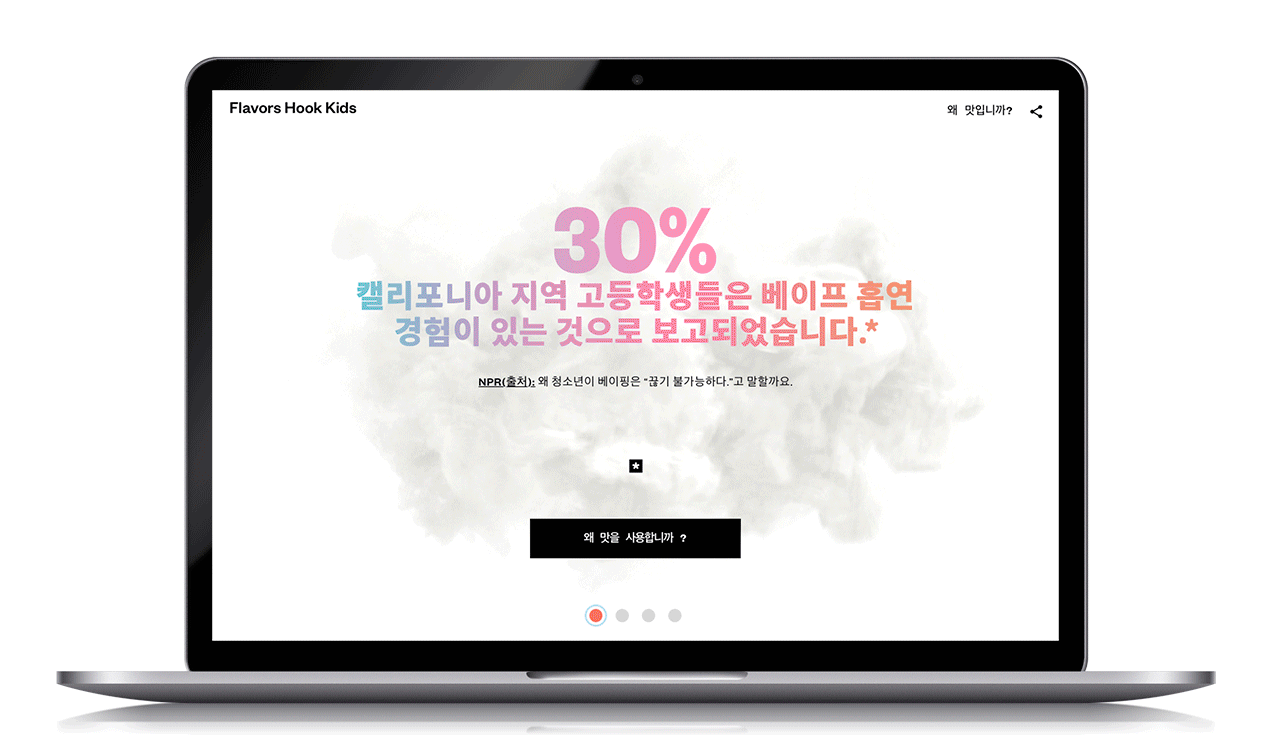 In-language Website
Results
Strong campaign recall was the most direct indication of success for 'Flavors': after the first 10 weeks of advertising, 65% recall seeing the campaign.
The overall opinion of flavored tobacco products have also shifted significantly. For example, more Asian Californians now agree that:
the tobacco industry deliberately targets youth as new customers
the marketing practices of the tobacco industry are deceptive
the tobacco industry uses flavor to hook kids
The campaign also helped motivate actions from our target audience, with a higher percentage of Asian Californian-parents expressing interest in participating in future legislation to regulate flavored e-cigs.
California has been the national leader on tobacco control efforts, and it's with APartnership's help since 2007, that we have been able to make a measurable impact on reducing tobacco use in our Asian communities.
Valerie Quinn, M.Ed., Chief, Media & Communications Section, CA Tobacco Control Program